How you can generate more leads with inbound marketing
Mobile devices such as tablets and smartphones have been increasingly changing user behavior. Potential customers can retrieve information about new products and solutions from virtually anywhere in order to make the best possible purchasing decision. Here, marketing managers in B2B can find out how to achieve more leads with inbound marketing.

Today, customers make their own decisions when, where and what to buy. They research extensively, compare companies, services and solutions on the web and decide on a product in a second step, according to the results of the Demand Gen Report "The 2019 B2B Buyers Survey Report". Particularly in the B2B environment, where solutions are much more complex and require more explanation than in the B2C world, providers must therefore consider how to ensure that their solutions reach the target group wherever they are. They must explain their solutions and products, demonstrate their competence – and convince, not belt at them with plain advertising.
Never heard of Inbound Marketing?
You should change that quickly. Traditional marketing with print ads or banner advertising is becoming more and more obsolete because target groups are simply becoming too diverse, usually unqualified and not specific enough.
Inbound marketing offers many possibilities to tailor high-quality content with relevant topics to the needs of the target group and to position it in the channels in which it actually resides.
But what does that mean? For us, inbound marketing means, in contrast to outbound marketing, where you compete for customers' attention through paid advertisements, for example, making potential customers aware of your company with relevant and helpful content and offering them added value across the entire customer experience – across all channels used.
First, your company needs to deliver the content that's relevant to your Target Group to its platforms.
Once your content delivers value to your potential customer and identifies potential industry challenges as well as provides guidance for them, you can position yourself as a trusted source.
And now inbound marketing comes into play. As soon as customers show initial interest, they'll be standing at your company's door on their own initiative. They will make contact with your company. Now it is important not to "burn" this contact by providing further helpful information for the customer and by building up a trustworthy relationship.
Inbound marketing attracts potential customers
Inbound marketing is all about ensuring that potential customers find relevant, high-quality information on their buyer journey and then decide for themselves when to contact a company. Marketing measures such as social media, SEO or native advertising support inbound marketing so that the customer can also find your topics. The methodology of inbound marketing attracts potential customers instead of following them.
Now it is a matter of developing a marketing strategy suitable for your company with certain inbound techniques. You should always provide your potential customers with the relevant content at the right time and in the right channel. The customer thus feels sufficiently informed about his pain points, feels that he is in good hands and considers your content in his purchase decision. In the following, we will show you how you can integrate inbound marketing methodologies into your company on three levels.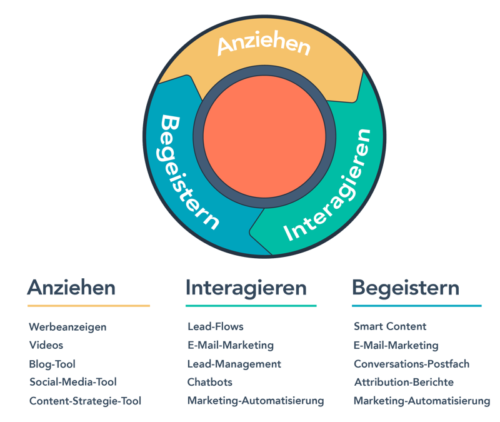 First of all, attract the attention of your target group. Focus on keywords relevant to the target group and integrate them on your website, in your social media channels and in your own company blog. Address the pain points of your target group – this is the most effective way to reach them.
Build a relationship. But don't aim directly at the deal, create your first trust, position yourself as a Trusted Advisor and show that you have the ideal solutions for the pain points of your target group.
You were able to inspire the potentially interested parties of your company? Chapeau! But don't lean back! Show your existing customers that you will continue to provide them with relevant content. Let your cooperation be referenced and let your customers speak to you in a next step.
Define your Buyer Persona
In order to get started with inbound marketing, your content should always be based on the pain points of your desired target group and made available to them at every stage of the purchasing decision process. But how can you determine the challenges your target audience is facing?
You have to define your target group, the so-called "Buyer Persona". It indicates different needs, behavioural patterns, expectations and goals. If you have defined these details in advance for your desired target group, you can address your customers in a more focused and effective way.
Tip: Together with your sales colleagues, portfolio or product managers, define the Buyer Persona. Through their close customer contact, they know exactly what needs, wishes and challenges the companies out there have. This also increases the acceptance of inbound marketing within sales and facilitates the processing of new leads.
The second building block in inbound marketing is content. Make sure that you address your defined buyer persona on as many of your content platforms as possible. The more you tailor your content to the needs of your target group, the more likely it is that the potential customer will contact you. Ideally, you should develop content for all phases of the purchasing process – so you always have the right content ready at hand and the inbound marketing process can be used effectively to generate leads.
Win your customers with confidence
Customers are won today – especially in the B2B environment – above all through communication characterized by trust. With the inbound marketing methodology you can build this trust. With the right content, pre-defined personas and internally defined processes, you can ultimately increase the number of qualified leads.
***
Inbound marketing is a new approach for you? Or you already heard of the buzzword, but don't know how to use it effectively? As a certified HubSpot partner, we support you in developing an inbound marketing strategy, creating relevant content for your target group and placing it on your marketing platforms. Meet us in person at DMEXCO in Cologne – we will be happy to advise you.
CURRENT STORIES – DIGITAL BUSINESS & FUTURE