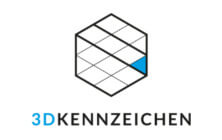 Sheet metal was yesterday: 3D-Kennzeichen GmbH has been producing plastic license plates and accessories with premium materials since 2013, setting new quality standards in the field of license plates. The company is located in Passau, a city with three rivers in Lower Bavaria, and is not only the manufacturer but also the patent holder of the 3D license plates.

The 3D license plates made of flexible plastic are an absolute plus for every car. They comply with the relevant standards & offer many advantages compared to conventional aluminum license plates: The plate as well as the letters of the 3D license plate are colored all the way through in black, which makes them more resistant and easier to clean compared to sheet metal license plates. The relief-like appearance attracts attention & beautifies every vehicle, in contrast to easily scratched and dent-prone metal plates. The elastic material of the 3D license plate does not dent so easily, is resistant to corrosion and can handle small bumps without complaint. With less than 1/4 of the CO2 consumption compared to the production of an aluminum sign, the 3D license plate is also much more environmentally friendly.
Contact Person
Tina Kickner
Marketing Manager
With the stable 3D license plates made of high-quality plastic, 3D-Kennzeichen GmbH offers a durable and fully legal alternative to the conventional aluminum license plate. Scratched, dented and faded license plates are a thing of the past. The next milestones of 3D-Kennzeichen GmbH from Passau are concrete: To establish the new 3D license plate successfully in the market, first as a high-quality alternative to the old sheet metal plate - and in the future as a new, environmentally friendly standard.